You are here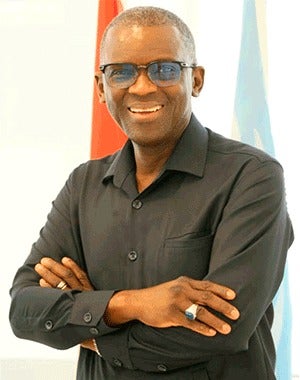 Dr. Mady Biaye
Dr. Mady Biaye has been appointed to the UNFPA Eastern and Southern Africa Region as UNFPA Resident Representative in Angola from 11 December 2020.
Dr.Mady is a statistician and demographer with over 30 years of professional experience, of which over 20 years at an international level. He most recently served as UNFPA Resident Representative (2016-2020) in Equatorial Guinea, leading and motivating the team in developing innovative and relevant approaches to engaging in issues related to population and development, sexual and reproductive health and gender equality, and worked closely with all stakeholders, including Government and other development partners, including strategic partnerships with the private sector to reduce maternal and newborn mortality.
From 2008 to 2016, he served as Technical Advisor to the Regional Program on Population and Development, Data for Development and Population Data Policy at the UNFPA Regional Office for Eastern and Southern Africa, Johannesburg, South Africa. UNFPA and UNECA Regional Technical Adviser on Population Data Collection, Analysis and Research in the UNFPA Country Technical Services Team (CST) for Southern Africa (2001-2008) in Harare, Zimbabwe.
Prior to that, Mady worked as an expert, senior consultant, and senior resident technical adviser, from January 1995 to May 2001, with a number of agencies including, but not limited to FAO, UNDP, UNFPA, UNICEF and the World Bank in Cape Verde, Mozambique, São Tomé and Príncipe and Washington DC. He was also Professor in quantitative research methods in social sciences at the Instituto Superior de Educação of the University of Cape Verde and supervised master's theses.
Among his recent achievements, as United Nations Resident Coordinator / Designated Officer (2018-2020), WHO Resident Representative (June-December 2020) and UN COVID-19 Coordinator / MEDEVAC Designated Field Coordinator (March-November 2020) 2020) in Equatorial Guinea , Mady assumed critical responsibility for coordinating the actions of the United Nations Development System (UNDS) in the country to deliver greater results and integrated political support to the Government and successfully led the UNCT through a reform effort unprecedented, including the repositioning of the UNDS and especially during this challenging period of health crisis due to the COVID-19 pandemic.
Mady holds a Diploma in Statistical Engineering from ENEA in Dakar, Senegal, and a Bachelors, Masters and Doctorate Degree from the UCL Institute of Demography, Louvain-la-Neuve, Belgium. Mady is fully proficient in English, French, Portuguese and Spanish.
He can be reached at  biaye@unfpa.org.