Sexual and Reproductive Health Minimum Initial Service Package (MISP) Readiness Assessment Workshop
Luanda, April 27, 2022 - The UNFPA - United Nations Population Fund in partnership with technicians of the Executive Secretariat of the National Civil Protection Commission held on 26 and 27 April in Luanda at the Hotel Trópico, a Workshop on Assessing the Readiness of the Minimum Initial Service Package for Sexual and Reproductive Health - MISP - in Humanitarian and Emergency settings, with the aim of ensuring that Sexual and Reproductive Health is part of the initial rapid emergency response. 
Technicians from the Executive Secretariat of the National Civil Protection Commission and UNFPA work together in the Readiness Assessment of the Minimum Initial Package (MISP) for Sexual and Reproductive Health (SRH) in Humanitarian and Emergency Contexts
The Workshop was chaired by the Deputy National Commander of Civil Protection and Firefighters, Mr. José Caculo, accompanied by the UNFPA Representative in Angola, Dr. Mady Biaye and the UNFPA Assistant Representative, Marina Coelho, and aimed at preparing MISP for SRH in Humanitarian Emergency Context through the Readiness Assessment Exercise (ARM). The process is based on a questionnaire that analyzes readiness in relation to policy, coordination, data, resources and service delivery across all MISP objectives at the national level. The results of the MRA Questionnaire will help identify strengths gaps regarding SSR preparedness to be included in a joint national MISP action plan.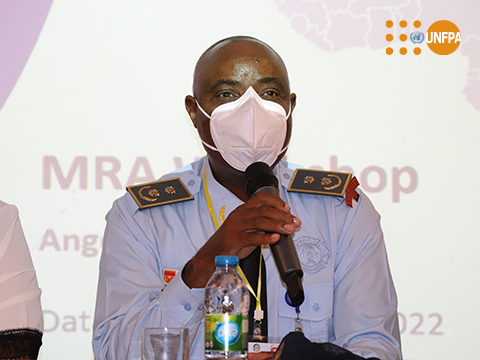 According to the Deputy National Commander of Civil Protection and Firefighters, Mr. José Caculo, this workshop appears to show us that "natural disasters should concern everyone. So this work in partnership with other entities will provide an opportunity to assess, understand and prepare the teams so that in situations like these, we are prepared to meet the objectives of the MISP in Angola".
 UNFPA Representative in Angola, Dr. Mady Biaye, said that to mitigate these risks, especially in girls and women, the focus of UNFPA's work, is essential for positive access to quality health care in emergencies. "In states of disaster we move to responding to the needs of victims, and providing information for appropriate response to SSR needs, in emergencies." 
For Mady Biaye, a country that is well prepared to respond to emergencies and natural disasters, has better recovery from them and less impact.
"These situations aggravate the vulnerability of girls and women, as well as reduce access to Sexual Reproductive Services care, a scenario that has become common in Angola with the droughts and floods in the south of the country," she reinforces.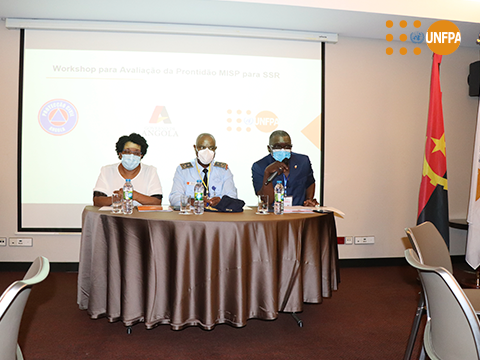 For two days, staff from the Civil Protection and Fire Services - Disaster Risk Reduction Directorate, MINSA, MEP, MED, MINEA, MESCTI, MAT and UNICEF participated to jointly discuss and identify strengths and gaps and develop an Action Plan that will allow the MISP for Sexual and Reproductive Health to be included in the Preparation, Response and Recovery to Humanitarian Situations and Emergencies.
The Minimum Initial Service Package (MISP) for SSR has the goal of preventing mortality, morbidity and disability in crisis-affected populations and is governed by 6 objectives.
OBJECTIVE 1: ENSURE THAT THE HEALTH SECTOR/GROUP SELECTS AN ORGANIZATION TO LEAD THE IMPLEMENTATION OF THE MISP
OBJECTIVE 2: PREVENT SEXUAL VIOLENCE AND RESPOND TO VICTIMS' NEEDS
GOAL 3: PREVENT TRANSMISSION AND REDUCE MORBIDITY AND MORTALITY FROM HIV AND OTHER SMSS
OBJECTIVE 4: PREVENT MATERNAL AND NEWBORN MORBIDITY AND MORTALITY
OBJECTIVE 5: PREVENT UNWANTED PREGNANCIES
OBJECTIVE 6: PLAN COMPREHENSIVE HSR SERVICES INTEGRATED INTO PRIMARY HEALTH CARE AS SOON AS POSSIBLE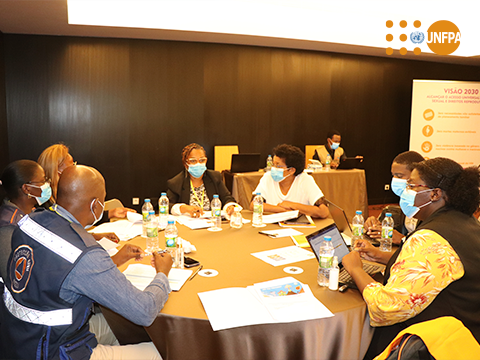 The MISP Readiness Assessment for SRH in Humanitarian and Emergency Settings (ARM) exercise - created by the UNFPA regional office for the 23 countries in the Eastern and Southern Africa region, with support from 2GETER4SHR (Regional Reproductive Health Support Programme), is aligned with UNFPA's strategic plan to expand its work in humanitarian action. It began implementation in February of this year and will be rolled out in several countries in the region by June 2022.
The ARM process in Angola will provide a unique opportunity to assess and understand the current preparedness situation. The results will help shape a targeted action plan to strengthen SSR preparedness and ultimately provide better SSR responses in the event of an emergency.
About the UNFPA
The UNFPA is the United Nations agency for sexual and reproductive health. UNFPA's mission is to create a world where every pregnancy is wanted, every birth is safe, and every young person's potential is realized.
Currently, UNFPA is guided in its work by the Programme of Action adopted at the International Conference on Population and Development (ICPD), held in Cairo, Egypt, in 1994. During the ICPD, 179 UN Member States - including Angola - agreed that gender equality and meeting needs in education and health, including reproductive health, are prerequisites for achieving long-term sustainable development. This commitment was validated again at the 2019 Nairobi Summit, held to commemorate the 25th anniversary of the ICPD.